One of the interesting things for those of you who usually play FPS games battle royale on HP is the feature to have guild.
As is guild, will allow you to play with members who have already joined. Not only that, there are also rewards additional after completing certain missions.
To have guild in Free Fire, we can join guild
that already exists, or create guild
alone. For those who want to know how to make it, here I will discuss it.
What is a Guild in Free Fire?
Guild in Free Fire serves to create a group of players. The goals vary, usually to complete quest or if guildis active, usually it can be a place to find new friends on Free Fire.
There are many advantages of course when you have guild. For example, if communication can be made easier, you can arrange strats certain to be able to create chat groups on social media to discuss games.
Guild in Free Fire itself has level. And you and other members who complete quest certain will get additional prizes, in the form of gold and EXP.
Guild Free Fire itself can be filled with up to 35 members. But you can still add up to 45 members by using diamonds.
How to Create a Guild in Free Fire
For new Free Fire players, it is recommended to join guild which already existed. So that you can learn the features guild this in more depth.
But if you already have enough experience and want to make guild Free Fire itself, of course, can too. Here are the steps to make it:
1. First, please open the Free Fire game first.
2. In the initial screen of Free Fire, you can directly tap icon
The guild on the right.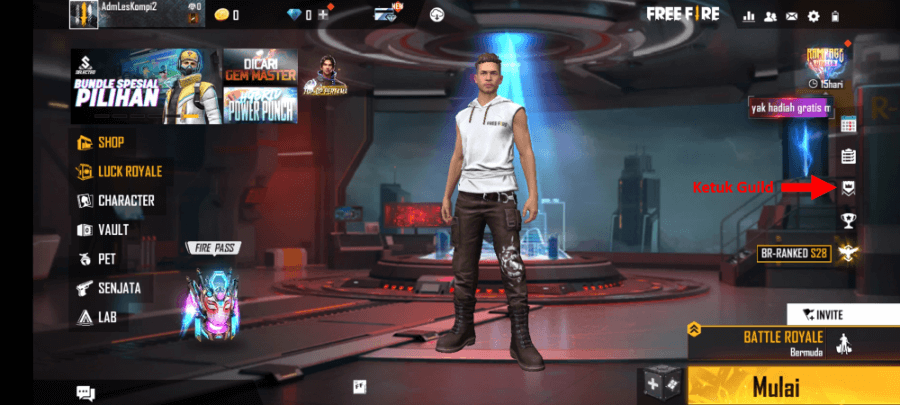 3. After entering the page guildtap the button Create a Guild.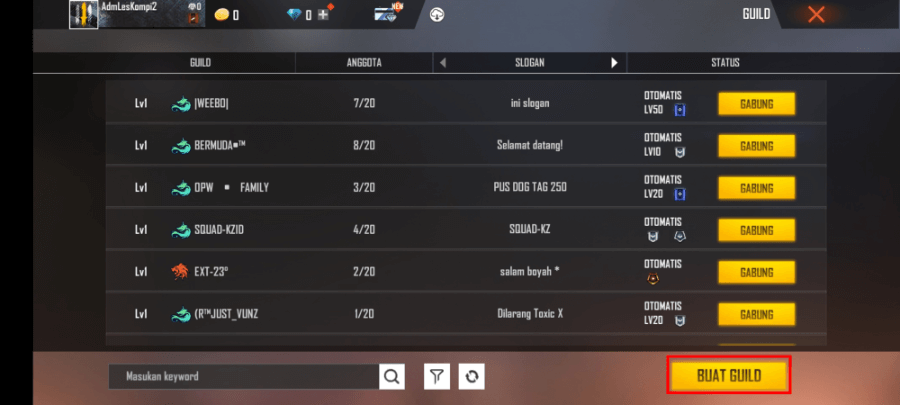 4. Then enter Squad Namechoose Region,
Style, Approval Type and fill Slogan as you wish.
5. Finally, please tap the payment button with 5,000 Gold or 1000 Diamonds.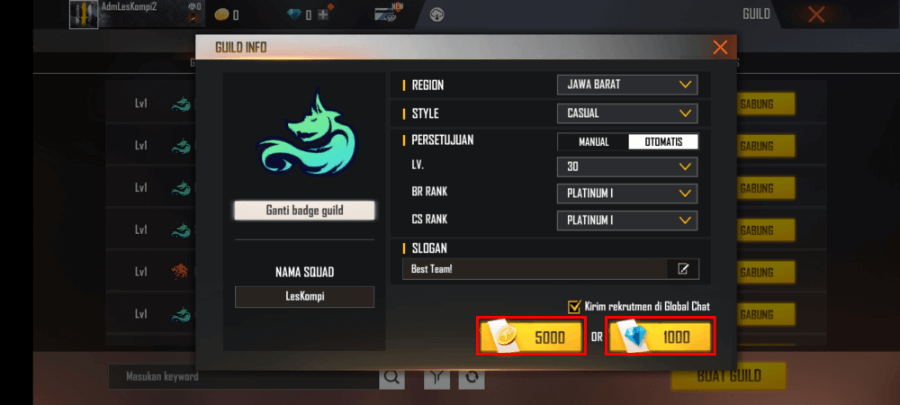 6. Done.
Advantages of Having a Guild in Free Fire
Become leader guild in Free Fire has more advantages. Remember to make guild This you have to buy it at a price that is quite expensive.
Examples of advantages such as:
Get rewards (Gold & XP) more than officers guild or member
Can get more Guild Tokens
Better known by other members in guild
Free to adjust settings or characteristics guild
Can register guild into tournaments organized by the Free Fire community
Examples of Good Free Fire Guild Names
One of the things that can make you confused when making guild
is to choose a suitable name. But it is advisable to think about the name first carefully.
Because to change the name, which if it doesn't feel right, is quite expensive, you have to spend 500 diamonds.
Some examples of Free Fire names that can be used are:
flying fox
Lion's Roar
Fire Art
The Army
Laughing Clan
Soldier Games
Clan Art Online
Also Read: How to Create a Room on Free Fire and Set It Up
The final word
After having guild yourself, you can immediately look for members to enliven guild
the.
How to find it can be through chat, invite people who were once a team, to find members through social media.
Guild what you make yourself is not permanent. You can delete it at any time if you wish.
If you have any questions, don't hesitate to leave a comment in the column below.
May be useful.